Mikulov
Mikulov The ancient town of Mikulov is an ideal place for entertainment and pastime of all admirers of hiking, history, nature, swimming, water sports, cycling and, last but not least, wine.

Mikulov and its surroundings is a traditional wine centre. The geographical position, the climate and the varied soil of the Mikulov wine region with the limestone slopes of the Pálava Hills affect the unique character of the local wine. This was already discovered by Ancient Romans, who considered the Pálava region ideal for vine growing.

The major wine centres of the Mikulov wine region include Mikulov in the first place, and further Valtice, Dolní Dunajovice, Novosedly, Perná, Sedlec, Pavlov, Dolní Věstonice, Horní Věstonice and Brod nad Dyjí. The new viticulture exposition of the Regional Museum in Mikulov consists of three parts: the Chateau Cellar with the greatest rarity of the museum – the giant wine cask dating from 1643, the "Traditional Viticulture in Moravia" and finally the gallery of historic worm presses.

In Mikulov you will come across wine everywhere you go. Wines of this sub-region are so specific that they meet the strictest demands of connoisseurs and wine lovers of all generations.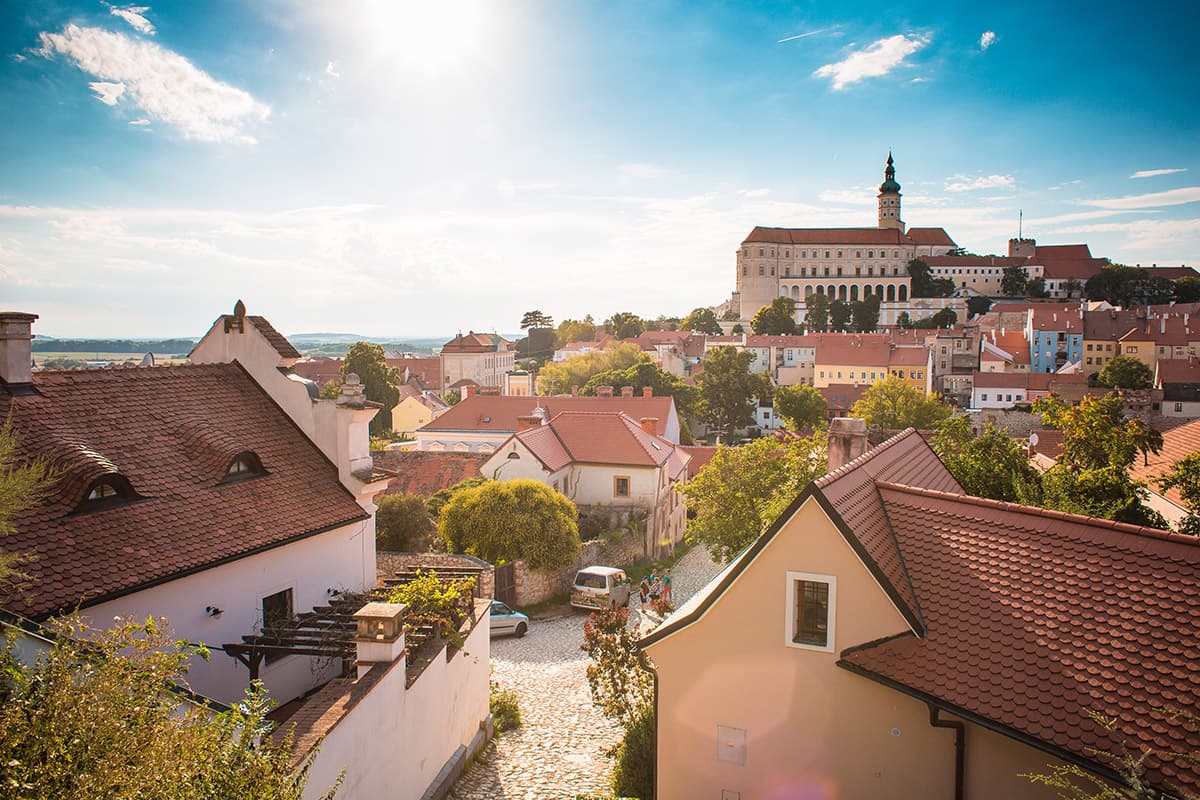 Admirers of nature will certainly appreciate the surroundings of Mikulov which are a part
of the Pálava Landscape Protected Area.

The caverns Pod Turoldem are situated under one of the local hills called Turold. Swimming and water sports admirers can visit the Nové Mlýny reservoirs. Apart from swimming itself, windsurfing, kiteboarding and yachting can be practised here.

Admirers of cycling have at their disposal a countless number of cycling tracks and if they are equally admirers of good wine, they will certainly appreciate several wine cycling tracks some of which are situated on the Austrian side of the border with the Czech Republic.

The town and its surroundings can offer many attractions, e.g. a historical grafitto house "U Rytířů" on the main square, St. Wenceslas Church, the St. Trinity Sculpture and the Liechtenstein sepulchre (called the Dietrichstein sepulchre later on). The main square and its surroundings can be overviewed from the majestuous Mikulov Castle.

The town of Mikulov can be proud of its Jewish culture historical landmarks, especially the Synagogue, the Jewish cemetery and the Mikva – Jewish baths. If you want to see Mikulov from a good viewpoint, we can recommend you to follow the Calvary to the Holy Hill on the top of which there is the St. Sebastian's Church with a belfry.

The observation tower at Kozí Hrádek is worth visiting. When the flag flies on its top, you know it is open. The Lednice-Valtice Cultural Landscape is situated close to the town of Mikulov. In this area, you can visit the Castle of Lednice which is listed in the UNESCO heritage.